Why investing in functional and beautiful compact kitchen units? A significant portion of the urban living population reside in tiny apartments that are spatially constrained on many levels. This cramped ambit also includes kitchens, and as such kitchen spaces are sometimes sacrificed to make room for other user oriented zones.
Well, as any architect worth his salt would say – good designing always triumphs over spatial predicaments. This is aptly proven by the ten ingeniously contrived compact kitchen units and all in one kitchenette designs that are seamlessly constructed as a part of the house's furnishing.
Compact Kitchen Units
1. Modular Kitchen from German designers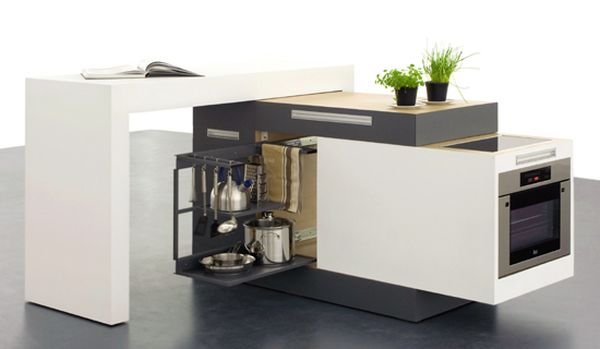 Created by German designer duo of Kristin Laass and Norman Ebelt, the modular kitchen comprises of an induction cook top, an oven, a small refrigerator and a dedicated storage space for keeping the utensils. All of these attributes sound more incredible, when we say that the entire unit accounts for just 1 square meter when closed, while also serving as a credible dining table (with the help of the minimalist counter top).
2. The Board by Pietro Arosio
Almost projecting out like a cantilevered structure, the aptly named Board (designed for Snaidero) by Pietro Arosio demonstrates the beauty of compactness. Commercially available in two models (with differing lengths of 90 cm and 120 cm), the conception has all the basic kitchen components, including a counter top, a small basin with faucet and a hidden waste basket for disposing off the organic waste. These features are further complemented by a small eating space at one end, deftly furnished in polished wood.
3. Circle Kitchen from Compact Concepts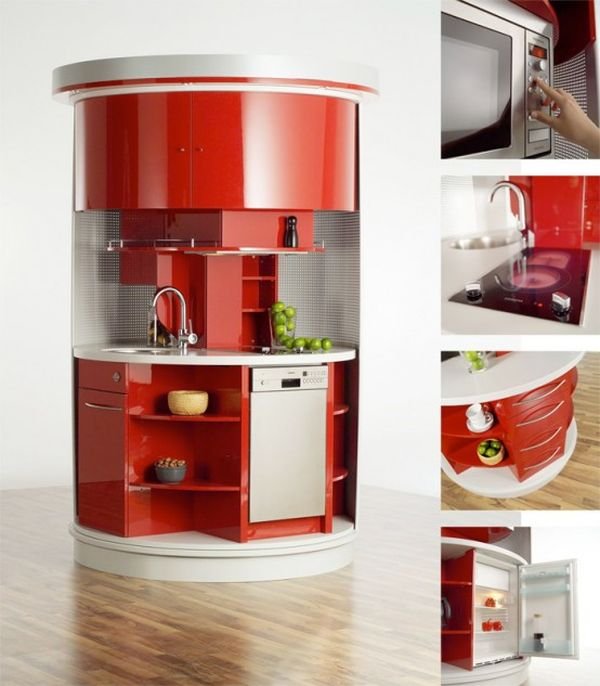 Accounting for just 1.8 sq m of area, the Circle Kitchen is all about the collective kitchen experience. Designed with an innovative circular plan, the vibrantly hued 'kitchen' rotates in an 180 degree angle for improved accessibility. As for its functional components, the conception integrates a host of features, like a basin and counter top in the middle region; an oven and fridge in the lower section; and storage spaces along the top section.
4. Compact kitchen by Jcorradi
Compressed kitchen unit with an industrial finish – this in a nutshell describes the above pictured design from Italian company Jcorradi. Featuring a stove, an oven, a prep area, a kitchen sink and dedicated storage areas (flanking the oven), the conception is envisaged as an all-in-one kitchen 'workstation'. However, the best part about the entire scope is the customization options that can be achieved within the quartz agglomerated work top.
5. Complete Kitchenette from Culshaw Bell
Old fashioned, purist and classically innovative – these are the primary qualities of the Complete Kitchenette designs from Culshaw Bell. During non-cooking hours, the conception poses as a regular cupboard. But as it opens up, the design gloriously flaunts its assortment of features ranging from sink, faucet, microwave, fridge to induction hob, granite counter top and storage. All of these attributes are accompanied by a 'homely' aesthetic value derived from the usage of natural oak and hand painting.
6. Carre modular kitchen unit
If any kitchen unit was envisaged as an art piece, it would surely be the Carre designed by Robert Schierjott and Ulrich Kohl. Taking up around one sq m of space, the design basically comprises of two separate modules. By various combinations of these modules, the users can configure a whopping six different arrangements to suit their cooking purpose. As for its built-in features, the unit contains a stove, a kitchen sink, a counter top and storage spaces.
7. Stewart & Justin Case
Created by Maria Lobisch and Andreas Näther, the Stewart & Justin Case is all about the multi-purpose scope. Exhibiting a substantially expansive area, the unit can be transformed into various arrangements for corresponding functions. For example, it can be converted into a full fledged drying rack and shelving system during regular hours. However during supper times, the conception can conveniently serve as a dedicated dining table.
8. Miniki minimalist kitchen unit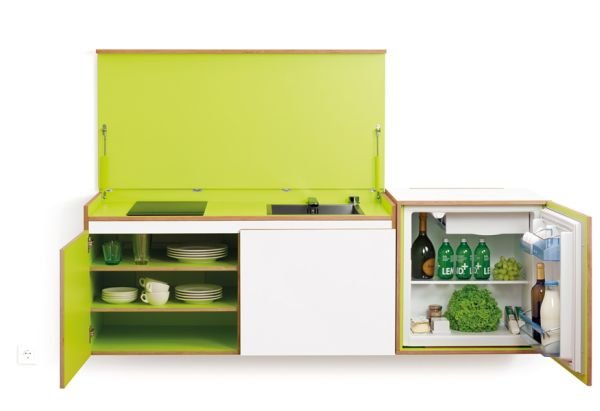 Do not let the effervescence of the lime green hue fool you; the Miniki kitchen unit is as minimalist as they get. How so? Well, during your cooking needs, the cupboard like design opens up to display a counter top, a sink and a fridge. However, when it is closed, the entire contrivance showcases its impeccably white colored facades that would seamlessly 'fade' if positioned in front of a similarly painted wall background.
9. Pedini DUNE island kitchen
If organic designs are your preference, the Pedini DUNE compact kitchen unit would surely entice you with its flourishing curves and convenient features, including – stove, sink and faucet and storage spaces. The smooth form also eschews those obtrusive handles (opening the drawers is achieved by positioning your fingers in the subtle grooves along the edges). And, finally in terms of practicality, the conception is envisaged as a separate kitchen island, thus not requiring any sort of wall connection.
10. Come Together kitchen unit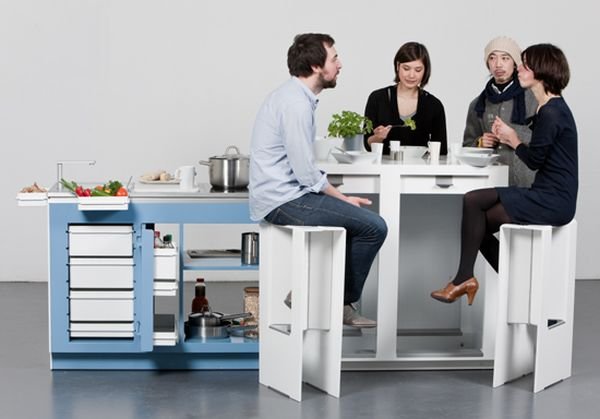 Coming together as an innovative piece of compact kitchen design, the Come Together makes use of every possible spatial feature. Designed by Albrecht Seeger and Martin Klinke, the simple structure comprises of a counter top, prep area and storage spaces. However, the 'piece de resistance' of the entire scope would surely be its collapsible seats that accompany the dedicated serving area.