As many of the modern consumers would expect, our compiled list of most advanced vacuum cleaners included quite a few robotic vacuum cleaner entries. In fact, these so-called robovacs are making a considerable splash in the commercial sphere, with the exalted Roombas leading the charge. Well, German-based designer Nasir Ashfaq has surely been inspired by this potential, as is evident from his conceptual iClean vacuum.
Envisaged as a house cleaning mechanism, the iClean project is developed as a specialized robotic entity for the Technical University of Munich (TUM). And, we can make out a few unique touches to the conception, like its novel heart-shaped form, as opposed to the 'conventional' circular bearing of most robovac designs.
Of course, the technological changes go beyond the dandy aesthetics. In this regard, the iClean will integrate special modular components that will individually cater to different cleaning scenarios. For example, the variant reservoir modules will account for dust collectors as well as water tanks. Additionally, users can also attach/detach sensor modules for more modified navigation inside the house (presumably for hard-to-reach places).
However, the 'piece de resistance' of the contraption would surely be its voice control attribute. The designer has rendered special speaker and microphone units that will cater to the scope of human-robot interaction. These innovative components will take their place alongside regular user-oriented features, like an LCD display, corner-brush motor and cliff sensors.
Now, as we mentioned before, the iClean vacuum cleaner is in its conceptual stage, with the actual development process still having a long way to go. However, we will keep our fingers crossed for an advanced robovac that integrates voice-command response (without requiring hacks), along with a modular design and a nifty form-factor.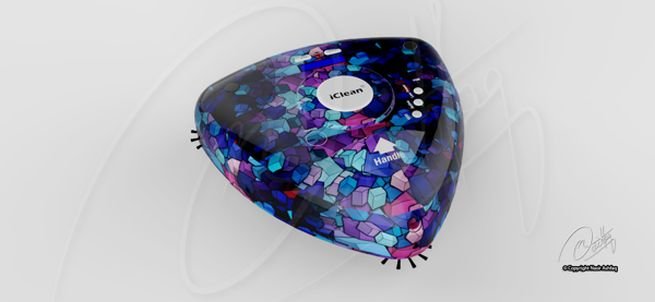 Via: Behance