In an attempt to optimize floor space, an enterprising Redditor with user name 'Virian' has constructed a uniquely functional, yet playful hanging loft bed for his son.
A Hanging Loft Bed in Wood
While the wooden framework of the bed is secured to the wall by means of lag bolts, it derives additional support from a sturdy chain hooked onto one of its corners.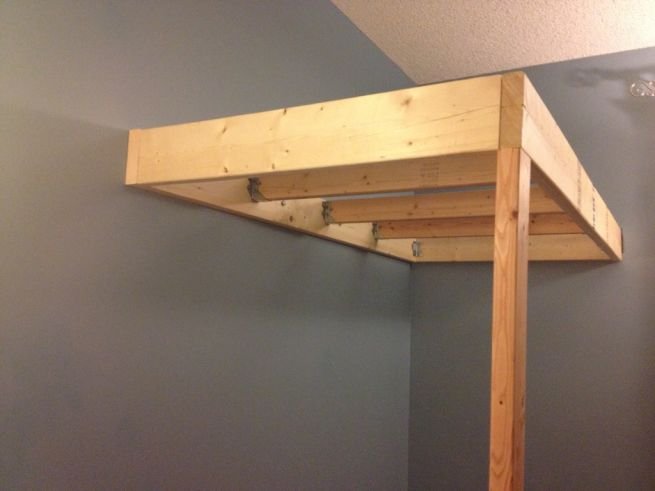 This innovative DIY bed design is not only incredibly space-saving, but is a fun single bunk bed option for kids. 2×6 pine studs form the basic rectangular frame, to which 2x4s are affixed with the help of joist hangers. It is then wall-mounted using five lag bolts that are screwed firmly to the frame of the house.
Corner Brackets provide the extra support needed to make the structure strong and unyielding.
The platform of the bed is built out of ½" medium-density fibreboard (a.k.a. MDF). An 800 lbs-rated proof coil chain, suspended via an eye-bolt drilled into the ceiling joist and then clamped to one end of the wood skeleton, keeps the bed afloat.
Stained 1x10s, attached to the outer edges of the bed using screws and finishing nails, create a kind of raised casing required to keep the mattress in place. The platform is painted in the color of the adjacent walls, and the chain is finally fastened to the hook protruding from the bed frame.
Ladder and Guard Rails
A ladder, made with 1×4 posts and 1" dowels (for the steps), is installed at one end of the bed, thus allowing access to the floating lofted bed.
Guard rails are built using similarly stained 1×2 wooden battens and then fixed onto the 2×6 plank with screws, to ensure the safety of your sleeping child.
Caulking seals the gaps between the joints, while the bottom of the bed is coated with white paint to give the whole thing a clean and polished finish. 'Virian' hopes to eventually build a compact desk for the space underneath the bed.
Although the suspended loft bed is a cleverly engineered and executed DIY project, we do have a few doubts regarding its design. Because of the absence of any footboard, changing sheets and cleaning the mattress will indeed be an excruciating task. It will therefore be better to forgo the comfort of a thick, plush mattress. We believe a slightly longer side railing will ensure greater safety, especially for younger children.
Regardless, this ingeniously-crafted hanging loft bed is an excellent space-optimization tool for college dorm rooms, and for anyone crunched for space.
Via: Reddit