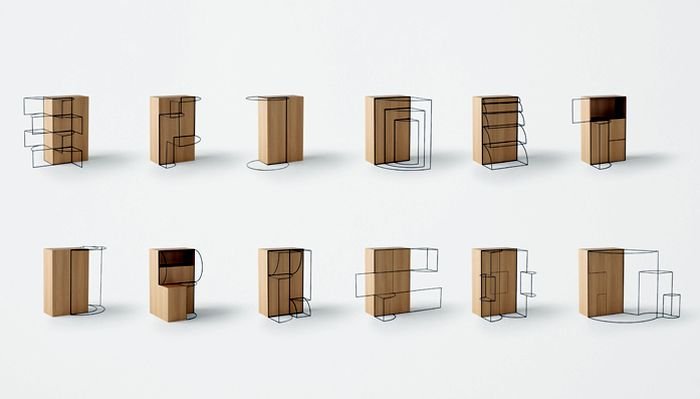 To commemorate the annual Collective Design Fair in New York City, Japanese Studio Nendo has recently unveiled its latest Trace furniture collection. Each furniture piece features sketch-like outlines that are designed to literally 'trace' the motions of furniture's moving elements.
The furniture collection includes a range of glass-topped reception counters, cupboards, series of black metal lighting pendants. Movements of each unit – from opening of cupboard doors to swinging motion of light bulbs are highlighted with black wiry outlines.
There are total 12 cupboards featuring distinct door designs that are meant to open in different configurations. On the other hand, 10 lighting pendants are also part of the collection and each light fixture can be positioned at different angles to complement any contemporary interior.
Another interesting unit from the collection is the long glass-topped reception counter. The glass tabletop is supported by a series of wooden legs with trace doors. Each trace door is designed to open in frame-by-frame sequence, adding aesthetic charm to this practical piece of furniture.
From a certain distance these furniture units seem like drawings on a piece of paper, but you'll realize their true function when doors and lighting fixtures come into motion. You can catch the Trace Furniture Collection at Collective Design Fair, Skylight Clarkson Sq. New York from 4 to 8 May.
Via: Urdesign